Specification
thin aluminum disc
Thin aluminum discs
are widely used in electronics, daily chemicals, medicine, culture and education and auto parts. Electrical appliances, heat preservation, machinery manufacturing, automotive, aerospace, military, mold, construction, printing and other industries. Such as kitchen utensils such as non-stick pans, pressure cookers, etc., and hardware products such as lampshades, water heater shells, stretched tanks, etc., are one of the most used aluminum alloy plate and strip deep-processing products.
The main components of the thin aluminum disc uncoiling and blanking production line are: loading trolley, uncoiling machine, leveling machine, feeder, swing unit, special closed single-point mechanical press, rapid die change device, palletizing unit, waste Shearing, hydraulic system, electrical control system, etc.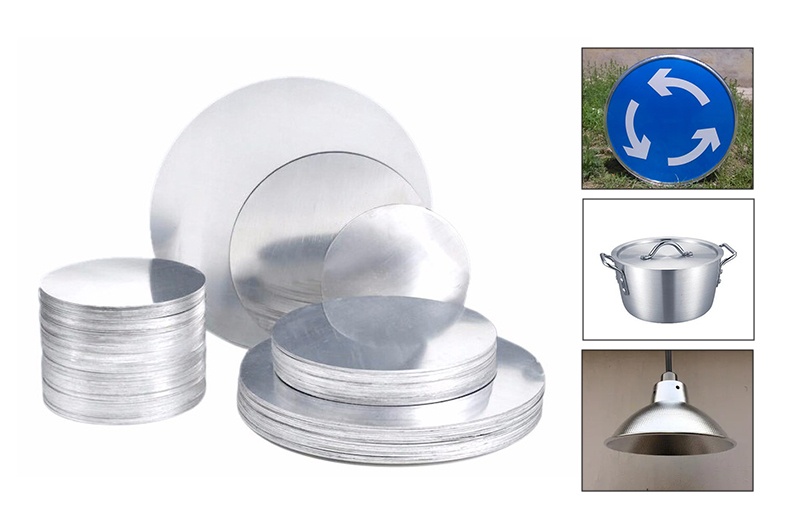 1. The specifications of
thin aluminum discs
are available. In addition to the conventional dimensions, discs with the thinnest 0.5 mm and the thickest 6.5 mm can be provided;
2. The surface performance of the thin aluminum disc is good, and there is no obvious scratches, oil stains, oxidation, black spots, etc.;
3. When the thickness of the thin aluminum disc is greater than 1.0 mm, ensure that the edges of the finished product are neat and free of burrs;
4. The good control of the coil grain size and elongation in the early stage ensures the excellent deep drawing and spinning performance of the disc, and effectively avoids the possibility of occurrence in the later processing.
Undesirable phenomena such as the drawing pattern, lotus leaf edge, and high ear-making rate;
5. Strictly control and test the alloy, state and performance of the coil to ensure the accuracy and diversity of the discs provided;
6. The introduction of advanced and efficient production equipment improves the production efficiency of discs and the utilization rate of materials, effectively shortens the production cycle, and provides customers with real-time convenience
service;
7. The
thin aluminum discs
are classified in detail, and the exact type can be selected according to the different uses and requirements of customers;
8. Products comply with RoHS and REACH environmental protection standards;
9. The product packaging is firm and conforms to domestic sales and international export standards.